FELINE FRENZY - Feb. 19-20, 2005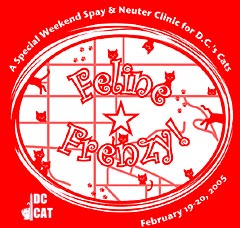 Feline Frenzy was an incredible spay/neuter event organized by Alley Cat Allies. In 2 days, 512 of DC's tame, feral & stray cats were vaccinated & sterilized, preventing untold litters of homeless kittens. Amazing veterinary team the Humane Alliance, from NC, Dr. Marvin Mackie & local vets Dr. Nave Dhillon & Dr. Allison Mocko worked long hours to get all the cats done.
It was trully an inspiring experience. Teamwork, grassroots organization, dedicated volunteers & an exhaustive effort on the part of Alley Cat Allies made this event a wonderful success for the area's needy cats.
I worked mostly in the grooming/deworming department so most of the pics are of my fellow groomers. Click on the thumbnails below for a larger view: