Capaccino & Java arrived on
4-30-05 in a Fair Oaks parking lot in a delivery van. They'd come from Rockbridge SPCA in Lexington, VA,
3 hrs away. The kennel floors at the shelter were being refinished & all their dogs had to be cleared out. It wasn't in the budget to board them all & there weren't enough foster homes available.
Through the efforts & e'mails of a group of rescuers, many of the dogs were set up with rescues in other areas. A van-load of dogs was brought to our area & reps from various rescues were there to pick them up.
CR!FR found a permanent home for one dog ("Goober", now named "Rozenkranz") & we're fostering Chino & Java here. They're very puppy-rowdy but are learning manners well. They're also very affectionate, lots of fun & very sweet!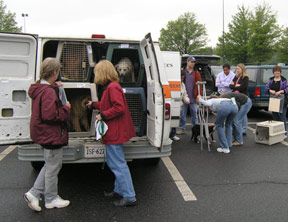 Rescuers gather around the delivery van to
greet the road-weary pups.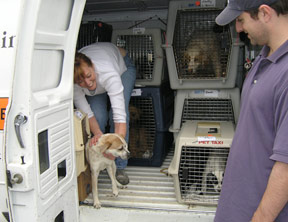 Nervous Chino makes his way off the van.
Chino & Java are brothers, although Java is a good 7lbs heavier & a bit bigger than Chino. They're now around a year old. Java is a bit mellower, Chino is an imp! They're both extremely affectionate & friendly.