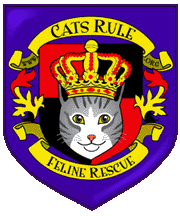 ___

You are visitor
#
Love is the virtue of the Heart.
Sincerity is the virtue of the Mind.
Decision is the virtue of the Will.
Courage is the virtue of the Spirit.
— Frank Lloyd Wrightmi
The Organic Commandmentsmi
It's not enough to believe in
something if you don't act on it.
— Paul Wellstonemi
mi
*50,398 homeless cats & 31,830 unwanted dogs were killed
in Virginia facilities in 2008. Please - NEVER breed or buy a pet when thousands
of friendly, loving felines, canines, & small animals' lives hang in the balance
at your local shelter. You can make a difference: Spay/neuter your pets!
ADOPT A PET OR 3!
"Just one litter" is too many. NEVER buy from a pet store, breeder or online!

CATS RULE! Feline Rescue is a collective of animal lovers, rescuers,
& friends based in Fairfax, VA. We help needy animals of all kinds, with
a focus on feral cats & animals on death row in high-kill shelters.

CR!FR is an all-volunteer, not-for-profit 501c3, no-kill rescue & advocacy organization. We rely on donations & volunteers to accomplish our life-saving work. Donations to CATS RULE! Feline Rescue are tax deductible &
greatly appreciated. Every penny goes directly to the care, medical needs, & support of our rescued cats, kittens & dogs.
Please help us save homeless cats
The rescued cats at our sanctuary come from hard circumstances: the mean streets, the highway rest stops, behind restaurant dumpsters, patches of scrubland near businesses, high-kill shelters; most are born homeless. Many have medical problems that require continued treatment. Happily, they are now safe at our cat sanctuary; well-fed, well-cared for & loved. And it shows!
We help a lot of animals but there are still thousands that need the intervention of a kind samaritan for their very survival. Not everyone can take in 10 or 20 animals & give them a loving home. But you can help animals by supporting local rescue groups.
You can be a part of happy endings!
With the support of caring people who share concern & compassion for animals, we can continue to offer shelter to animals with no home to go to & no one to care for them.
The work of rescuing & providing for homeless animals is a labor of the heart. Please consider a donation to help us help cats. The support of other caring people makes all the difference in our efforts on the front lines of the animal over-population crisis.
We're hoping our site will inspire you to take action & become involved, more so if you already are!


There is a serious feline over-population crisis in this country. Millions of friendly, healthy cats are killed in U.S. shelters each year, simply because no one came to adopt them. And millions of homeless & abandoned cats breed in colonies in the shadows & corners of our cities & neighborhoods. Without human contact, these cats revert to their wild instincts & become feral. They struggle to eke out an existence behind restaurants & truckstops, in alleys & the woods, in cities, suburban & rural areas. They also have an impact on wildlife. And they are killed by the millions in U.S. shelters every year.
Life is hard for feral cats & is nothing like the life a pet cat enjoys. Hunger, illness, injury, parasites, predators, cruel people, & traffic are daily battles for cats living in parking lots or storm drains scavenging from dumpsters. Kitten mortality is estimated at 50%. When feral cats are taken to a shelter or removed by animal control, they are killed because of the faulty logic that they are unadoptable as pets. TNR is the humane way to maintain a colony of feral cats; killing them is wrong & unnecessary.
Humans must take responsibility & get this cycle of suffering under control by taking action — preventing litters of born-homeless kittens, spaying & neutering their pets, & using TNR for stray/feral cats. It's a daunting task but it CAN be done - & CR!FR is helping to do it!
Please — make time in your life to help needy & homeless cats & animals. Spay & neuter every cat (& dog) you can get your hands on & encourage others to do the same (see Low Cost Spay-Neuter Options). Never buy from breeders, pet shops or online & discourage others from doing so. Educate yourself on the harsh realities most animals face. Eat less/no meat/dairy. Help rescue groups, most are desperate for assistance & funds. Advocate for animals, intervene on their behalf, speak up, take action. Foster &/or adopt several cats! You will not regret it :)
1 - To help needy, unwanted, & feral cats & animals by providing shelter,
7 - nourishment, medical care & lots of love.
2 - To find permanent loving homes for adoptable animals & to provide a
7 - permanent loving home for those who are not.
3 - To reduce euthanasia in shelters by spreading awareness of companion
7 - animal over-population, the importance of spaying & neutering & the plight
7 - of feral cats.
4 - To assist with local TNR efforts & respond to requests for assistance with
7 - feral cats.
5 - To improve the lives of animals by promoting responsible pet care, &
7 - advocating for the welfare & humane care of animals.
6 - To encourage acceptance of all living creatures as special & worthy of
7 - respect, protection & care.

Please support our life-saving work!
Please give...
so they can live.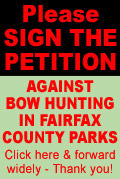 THANK YOU to
all the generous ebay'ers who are sharing their sales with us through MIssionFish! Your support is very much appreciated!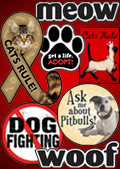 m. Great Gifts,
.Magnets & Merch!