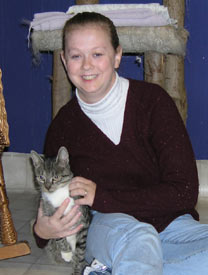 Bella & Jenna

rescued 11/2/04 - by Jenna
from an apartment complex in Richmond, VA
Jenna & her husband rescued a family of 5 homeless kitties, despite the stress of a heavy work load at school. They were persistent through frustrations & near misses & they soon had the whole family safe inside.
After 2 nights of little sleep thanks to the clamor of playful kittens, Jenna drove them up to CR!FR from Richmond through a crazy rainstorm.
THANKS Jenna! for caring & for going out of your way for these needy kitties.
The kittens are grown up now & have new homes, but Mama
Bella is still looking for the just right place.
Click on the links to the left for more info & photos.