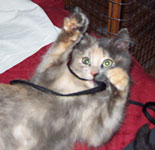 Lo-Lo when she was a wee one. She's still 2,000% playful.

mn
CRFR's BEGINNING • DEDICATION • APPRECIATION

CR!FR's BEGINNING
CR!FR's humble origins began when a life-long animal lover from Virginia encountered a colony of
feral cats at a New Jersey Turnpike reststop. Small, thin, scruffy adult cats milled around looking
for scraps & numerous kittens played around the edge of the parking lot. One dirty, thin mama cat
with an injured eye couldn't eat the cat treats tossed to her until they were broken into smaller
pieces. Half of a kitten's tail was missing. The animal lover decided to return to rescue &
spay/neuter the cats & adopt the kittens.
Sixty-three cats, 7 litters & 3 colonies later, we want to expand our efforts but must first expand
our facilities, fiscal status & family of caring animal lovers. We would love & appreciate your help
in accomplishing this.
Many of our wonderful cats & kittens are ready for new homes. Please explore our site, learn about
cat-related issues, meet our cats, consider adopting several, consider assisting our rescue efforts,
& ask if you have any questions about cat or animal issues!

To all the homeless & feral cats of the world,
To the wonderful cats we've rescued & befriended,
To all the feral cat trappers & rescue groups who help needy cats world-wide,
To all the cat people who rescue, adopt, foster & care for cats on their own time & expense,
To our dedicated veterinarians & all the vets who help feral & homeless cats,
To all the low-cost clinics, their staff & volunteers whose efforts help reduce cat over-population,
To the friends & pet-sitters who've helped with pet care,
To Uncle Nate & Aunt Bette,
And mostly, to Mike.
back to top............................................................................


With Sincere Gratitude We Thank These Outstanding Friends, Allies, Supporters & Cat People!

- Mike Anderson
- Mary Smith
- Virginia Garrison
- Dr. Brook, Dr. Hiss, Dr. Jennings, Dr. Jones,
- Dr. Hall & Town & Country Animal Hospital
- Dr. Deutch, Dr. Alt & Burke Veterinary Clinic
- Spay Inc.
- Dorothy Whittington
- Kelly Keys
- Dana
- Sharron Milask
- Katrina Fisher
- Courtney Benson
- Lori Pikaart
- Katie Raskin
- Aleta Breen
- Kerry Hilliard & Rikki's Refuge
- Mr. Ed Anderson
- Barb Becker, Feline Network
- Liza Koon
- Juanita Willoughby
- Alley Cat Allies
- Harriet, Drew & Eden Golub
- Ross at Manassas Petsmart
- Bob Baron
- Phil Neri
- Regina Evans
- Anne Wilson & the Coupon Brigade at
- HeartFields Assisted Living, Fredericksburg, VA
- Kate De Gaetano & Hooman Azarian
- Laurice Ghougasian
- Cathy Awad, Fancy Cats Rescue
- Virginia Ballangee, Advo-Cats Rescue
- Jane Rice, Castle Cats Rescue
- Pam Draper, Dewey Animals Rescue
- Susan Souza & the members of Wicked Jezebel,
- Third Wish, Bloody Meri & the Cover Up
- Lori Anglin, MetroFerals
- Homeward Bound Mobile Veterinary Care
- June Faris, Haven Cat Rescue
- Chris Haslam, Commonwealth Cat Rescue
- Gayle Cochran & Dan Rao
SPECIAL THANKS To Our Wonderful Donors!
Gin R., Frederick, MD
Alfreda C., Alexandria, VA
Robert B., McLean, VA
Katrina F., Centreville, VA
Gina F., Granada Hills, CA
Valerie G., Washington, DC
Jenna N., Richmond, VA
Jeff Z., Cherry Hill, NJ
Jim & Claudia C., Oakton, VA
Courtney B., Reston, VA
Sharron M., Alexandria, VA
Mathieu D., Columbia, SC
Karen F., Stafford, VA
Barbara B., McLean, VA
Jean R., Ashland, OR
Lynda L., Apple Mountain, VA

Gayle C. & Dan R., Great Mills, MD
Katherine D., Fairfax, VA
Carol S., Viewtown, VA
Hooman A., Fairfax,VA
Sue, Fairfax, VA
Christopher F., Sterling, VA
Hilda & Jeffrey P., VA
Rita & Barry A., Vienna, VA
Donna G., VA
Therese P., Alexandria, VA
Sarah W., Noah's Ark Foundation
Neville W., VA
Debra B., Fairfax, VA
Candy & Paul E., Alexandria, VA
Tina Marie N., Fairfax, VA
Tracy & Joe C., Woodbridge, VA


Pat C., Reston, VA
Val G., Falls Church, VA
Alice & Keith B., Springfield, VA
Mary Z., Alexandria, VA
Richard K., Herndon, VA
Jeany P., Thunder Bay, Ontario, Canada
Phil N., Falls Church, VA
Mary S., Pennsauken, NJ
Holly S., Annandale, VA
Liza B. & Bart T., Kernersville, NC
Sharyn B., Manassas, VA
Scott W., Manassas, VA
Dahlia K.O', Fairfax, VA
Liz R., Fairfax, VA
Kristi K., Fairfax, VA
Carol & Randy W., Hagerstown, MD




SUPER-THANKS To Our Fabulous Volunteers!
Lisa Q., Reston, VA
Kate D., Fairfax, VA
Katrina F., Burke, VA
Phil N., Falls Church, VA
Chris W., Aldie, VA
Mike A., Fairfax, VA
Michelle R., Clifton, VA
Margaret
Amy T., Gaithersburg, MD/FLA
Kim H., Centreville
Tamee T., Centreville, VA
Brendan S., Centreville, VA