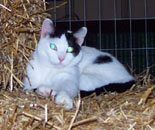 Mr. Firley
To See Our
Animal Awareness Magnets,
Click here
& Here!

Kitty Wreaths
Doggie Wreaths
"Word Cloud" Designs
Handmade Cards
Awareness Magnets 1
Awareness Magnets 2
Cat Dolls
License Plate Frames
Lapel Pins, Stickers

--
We have lots of neat gift ideas: Kitty & Doggie Wreaths
Framed "Word Cloud" Designs
Handmade Greeting Cards
Awareness Magnets 1
Awareness Magnets 2
Cat Dolls
License Plate Frames
Lapel Pins, Stickers

---


All proceeds directly support the cats & CR!FR's mission:
rescue, sanctuary, TNR, adoption, spay/neuter, advocacy, education, etc.

Many thanks for your support!

More fabulous items!
Silicon Bracelets, Cat & Dog Toys,
& MORE! Click HERE!

---




Back of T's & LS shirts


CATS RULE! Logo T-shirts & Long Sleeve T's!

Support cats & cat rescue & look fabulous!
100% cotton T's with our regal logo

T-shirts: S - M - L - XL - XXL
BLACK - BURGUNDY - PURPLE shirts
6 color front design, 1 color back design

Long Sleeve T's: M - L - XL
BLACK - RED - BLUE shirts
1 color back design
6 color front design
1 color sleeves




Long Sleeves design:
"Rescue • Spay/Neuter • Adopt • TNR"

T-SHIRTS:
$15ea. + shpg

LONG SLEEVES:
$20ea. + shpg

---

Certificate of Appreciation

"You Are Making a Difference" - A meaningful way to express to a special animal person how much what they do means to you. Customized with name, text, & logo you supply.

Perfect for a veterinarian, animal rescuer, pet-sitter, volunteer, rescue supporter, groomer, & anyone who helps animals or who's helped you help animals.

8.5 x 11"

$15 ea. incl shpg

---

Custom Ornaments

One-of-a-kind handpainted ornaments of your
special furry friend. You supply the photo, which
will be returned.

2x3" with loop
wood, glitter, beaded velvet cord




$20 ea. incl shpg

---

Coming soon!

Bumper Sticker

Speak out for puppy mill dogs! Boycott Stores That
Sell Puppies.

Durable vinyl bumper sticker
11.5 x 3"
For periodic CR!FR news,

updates & info, sign up

for our

mailing list

!