Ivan, RV co-pilot

Tales of
Shelter Rescue Transport

How do you expand your efforts to help animals when there is
no more room or finances at your rescue for new cases or fosters? How do you help animals when you can't adopt or foster?
Shelter rescue transport is a great way to help save lives!
There are a couple of transport organizers on the east coast. I usually drive for Freedom Train Animal Rescue Transports, which is organized by the amazing Rhonda Simms. She somehow pulls together sometimes around 40 drivers who drive 1 hour legs from high kill southern shelters to rescues in CT, NH, Maine, & other points north, where the shelters
aren't in such crisis. It's a great way to help when you can't take
in or foster more animals!
Here are some photos from our transport adventures:

3-16-08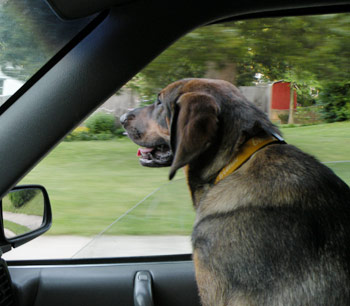 Ellie Mae, riding shotgun