Current News -01 -12/07
News Archives - 01/06 - 12/06
2004-2005 NEWS
12-22-05 —
Wishing everyone a very
Warm Holiday Season & a Happy 2006
from all of us at CR!FR
!
Thank you
to all of our supporters, friends, family & fellow cat-people - we appreciate your help & friendship. Click here for a holiday message:
http://www.catsrule.org/CRFR05happyholidays2s.jpg
See you in '06!
12-11-05
— Our
Holiday Wreaths for Cat-Lovers
are finally up on our site! There's only 15 more days of shopping so take a peek & see our cute kitty-oriented wreaths.
12-08-05
— A lovely
brand-new cat scratching post
appeared on our doorstep this morning! There was no note identifying the mystery donor. We're hoping that thoughtful person will step forward so we can thank them personally.
In the meantime,
MANY THANKS
for the awesome scratching post, Mysterious Friend! Machipongo & Mantenna are enjoying climbing & playing on it in the kitten room.
12-03-05
— CR!FR participated in our 1st craft fair, in Middletown, out near Winchester. There were many cat-lovers there but they seemed to feel their cats were spoiled enough & didn't purchase much. We did get many compliments on our
Holiday Wreaths
, though!
11-19-05
— We TNR'd 5 cats from 2 sites & found a home for one that was tame!
11-05-05
— CR!FR "tabled" at a 4x4 truck swap meet at George Mason University. Glad to report many of the off-roaders there were cat-lovers & some had taken in strays. They liked our selection of
awareness ribbon magnets
&
t-shirts
.
10-31-05
— New kittens in! What a Halloween treat - little
Machipongo
&
Mantenna
were rescued from behind the Manassas sign shop & delivered by Mike K. They're already purring & eating like hungry hippos.

10-08-05 —
CR!FR will be participating in an
adoption fair
at
Stone Ridge
on
Oct. 8, 11-3pm
. Come on out & meet
Ketima & Kilo
,
Chino & Java
, & other wonderful cats & pups, some rescued from the Gulf. Also, shop for neat gifts, popcorn & root beer, etc. More info & directions at
http://www.catsrule.org/stoneridgepets.html
09-13-05 —
Some of our adoptable sweeties can be met in person at weekend adoption fairs. We've been guesting at the
Humane Society of Fairfax County
's adoption events, alternating at the Springfield & FairLakes Petsmarts. This coming weekend we'll be at the Springfield Petsmart. Check the schedule on their site & c'mon out & meet
Ketima
,
Kilo
,
Laika
&
Laia
!
09-11-05 —
Thanks again to
Jim & Claudia C
., of Vienna! They dropped off a surprise donation of 4 bags of Purina-One cat food. Many thanks from the hungry horde!
08-27-05 —
Come visit
Kilo
&
Ketima
at the Fairlakes Petsmart Adoption Fair, Saturday, Aug 27, 11-3pm. They'd love to meet you & amaze you with their friendly cuddliness!
08-30-05 —
Many thanks to ebay seller Janis B.
! We won an auction of one of her cute handmade kitty blankets & she sent 3 extras plus a dozen handmade catnip toys! It's the best catnip the gang has had; there were several "drunk" cats getting silly with the toys as soon as I unpacked them. Janis trades under the seller name "restyourpads" on ebay. Search under seller to see her wonderful & very affordable items.
08-22-05 —
FABULOUS NEW ITEMS AT THE CR!FR SHOP!
17 different designs of animal-issue magnets, silicone bracelets, license plate frames, antenna topper, cool sticker, & a gorgeous TNR lapel pin!
Click here to check it out.
All proceeds help support our cat care & rescue efforts. We've had a lot of vet bills lately & really appreciate your support!
08-19-05 —
CR!FR
tabled at the
Arlington County Fair
as a guest of the
Action for Animals Network
. We really enjoyed meeting people & talking about cat issues, the pet store-puppy mill connection, people's pets & other animal issues. Thank You
Holly
&
Mary Z
.!

Lito sneaking
up on ya!
08-10-05 —
New Kittens In
!
Laika
(f),
Laia
(f) &
Lito
(m) have joined the crew! A week later, last brother
Lexan
arrived. These adorable little fluffies are about 6 weeks old. We're working on capturing their mama & the whole colony behind a sign shop in Manassas. So far we've TNR'd 4 adult cats. There are many more, at least 15. Fortunately, the sign shop people feed the cats daily.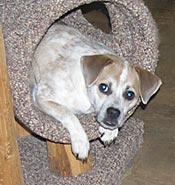 Chino's wondering
"hmmm, why don't they
make dog trees?!"

07-26-05 —
Many, many thanks to fellow cat-fan
Kelly C.
! Kelly had to give up her 3 beloved cats due to the serious allergy issues of her 2 young daughters. Fortunately, she was able to find good homes for her kitties & generously donated to CR!FR two loads of cat supplies: 5 nice cat trees/scratchers, a bag of toys, a lot of like-new cat dishes, 7 large covered litter boxes (all nice & clean : ), cat beds, doggie gates, scoopers & other supplies.
The cats are loving the toys & trees, the dishes are great & the supplies are very helpful. Chino & Java love playing in one of the trees, too!

Thank you Kelly
, from all of us!
07/16-17/05 —
I attended the HSUS
Take Action For Animals
in DC! It was terrific! Heard many wonderful & inspiring speakers, incl. Karen Davis of
United Poultry Concerns
, Gene Bauston of
Farm Sanctuary
, & many, many others. I got to meet Karen Derrico of
Painting for Paws
, also founder of
Mayday for Mutts
, & an amazing artist! She donates partial proceeds from her fantastic artwork to shelters & rescues.
The conference related more to activism than rescue but I learned a LOT & really enjoyed it. Friends
Holly
,
Pat
&
Aleta
ran the CR!FR/
PetstoreCruelty
table while I was in the seminars. Can't beat friends like that. Our awareness bracelets, CR!FR t's & ribbon magnet selection sold well.
Photos here
.
06-30-05 —
New Kittens In
! Mama
Kaleta
is very feral & has been returned to the cemetary maintenance lot to rejoin her colony. Kittens
Kilo
(m) &
Ketima
(f) are as sweet as can be & are ready for permanent loving homes!
06-17-05 —
FOSTER HOMES FOR KITTENS & CATS URGENTLY NEEDED!
Veterinary expenses will be covered, you just supply the food & lots of TLC. If you were ever considering fostering or just helping out now is the time.
BARN HOMES FOR FERAL CATS URGENTLY NEEDED!
Cats are spayed/neutered, vaccinated & need a safe place to call home.
If you can help, please get in touch:
info@catsrule.org
.
Mike & Holly at the CR!FR tables
06-12-05 —
Our first fundraiser/public appearance was great fun!
While U R Out Petsitting
's
"Doggie Fun Fair
" in Gainesville got a reasonable turnout despite the sweltering heat. We represented for cat folks, met many awesome dogs & their people, raffled off a bunch of nifty prizes, sold delicious homemade cookies (many thanks to the baking talents of
Katrina Fisher
of Remax & Holly of
www.petstorecruelty.org
) & spread the gospel of spay/neuter, rescue, adopt, feral power & kindness-to-all-creatures.
06-05-05 —
Many thanks to
Jim C
. for the donation of 4 bags of Purina-1 & for the bundle of Friskies coupons!
06-03-05 —
We were able to procure around 200 cases of canned dog food for
Rikki's Refuge
! Many thanks entirely to
Cindy
Williams
of
Pet Pantry Express
who went to great effort to arrange the donation. And thanks to Mike for trucking it all down to Rikki's, with a few dog houses for good measure! With 12 22-oz. cans per case, that'll make some doggies' tummies happy.
05-30-05 — On June 12,
CR!FR will be conducting our first fundraiser at the
"Doggie Fun Fair
"! The event is hosted by
While U R Out Petsitting
. Please visit our booth at Victory Lakes Community Park in Bristow, VA between 3-6pm. We'll have lots of nifty cat/rescue-related items for sale, complimentary information & handouts, a fabulous raffle, & mouth-watering treats! Hope to see you there!

05-29-05 — More dogs
needing homes! This time from Campbell County, VA's shelter.
Click here for Pictures
& please crosspost to anyone you think can help. Thanks!

05-28-05 —
Chino & Java
are now neutered! Here's hoping they'll mellow out a bit. The
Prince George's County SPCA
has excellent rates on spay/neuter, vaccines & other services & provide very good care.
05-18-05 —
Many sincere THANK YOUs to Mike A., for the
TWENTY-SEVEN
40lb. boxes of cat litter! Booyaa, Mike!

05-14-05 —
We attended
Basic Dog Obedience Class
with Chino & Java. It was held by
BarkBusters
& hosted by
GoodDogz
.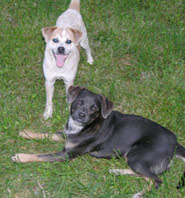 Both are fantastic organizations & we highly recommend them. The mission of
GoodDogz
is to educate & train owners & their dogs so there will be fewer surrenders & fewer euthanized dogs. They hold a series of very good training classes & are available to help dogs owners with their dog issues. Wonderful group!

04-30-05 — CATS RULE! Feline Rescue
loves dogs, too! We've taken on 2 of the dogs from the Lexington shelter bail out!
Capaccino ("Chino") & Java
are quite a handful.



04-29-05 — FOSTER HOMES FOR KITTENS & CATS URGENTLY NEEDED!
Veterinary expenses will be covered, you just supply the food & lots of TLC.
BARN HOMES FOR FERAL CATS URGENTLY NEEDED!
Cats are spayed/neutered, vaccinated & need a safe place to call home.
If you can help, please get in touch:
info@catsrule.org
.



04-28-05 —
We recently received a request for assistance with several neighborhood ferals & the caller was able to coax a semi-tame cat into her garage. Turns out the cat was pretty friendly, although shy, & pregnant. In fact, she had 6 adorable kittens today. If you'd like to adopt one or 2, please get in touch.
Pictures here
.


04-27-05 —
The Rockbridge SPCA in Lexington, VA (about 3 hrs from Fairfax) is resurfacing their kennels on May 2nd and they desperately needs help moving dogs out to make some room at the shelter. They need to EMPTY OUT their back kennels - 20 runs!
Please help us get these sweet dogs out.
Click here
to see if any of the dogs appeal to you or anyone you know. Thanks for any help you can offer in this dire situation.


03-24-05 —
I attended a
Pet 1st Aid & CPR
class at Lake Accotink Park today; it was really informative. Topics covered were emergency rescue breathing, choking, CPR, bleeding control, shock, injuries, wounds, burns, poisons, snake bites, restraint, frostbite, heatstroke, etc. Hopefully I'll never be faced with a serious animal emergency but if so, I'll be better prepared to manage it. There's one more class offered on May 26, click
here
& scroll down to find out more or call 703-569-0285.



03-23-05
— Our
adoption application
is now online!



03-10-05 —
Hello!! Wow, time has flown since our last news update. So much has been happening, I don't know where to start. The catwork has gone into overdrive since last fall.
— Late last
November
we assisted in the rescue of 2 kittens & 2 feral adults from a neighborhood in Vienna, VA. After vetting, they were adopted by their caretakers, 2 wonderful people with an adopted family of 2 jack russells & many pet birds. No more harsh weather, only warm indoor comfort & security for these kitties : ) You should see the fantastic playground these kitties get to enjoy. Click
here
for photos.
— The family of
5 from Richmond
were doing great but in late Nov. they came down with a bout of ringworm. So they were quarantined for 2 months while they got over it. It was bad timing because they were about to go up for adoption & had to wait. It was a challenge keeping them entertained as they grew up quarantined in the kitten room. They're bigger now & healthy & sweet as ever. And looking for their happy forever home once again.
— In
December
we rescued 2 cats & 3 kittens from a townhouse development in Stafford, VA.
— Also, THANKS to
Juanita W
. for the donation of supplies: towels & linens, bags of cat food, litter pans, & a roulette toy. They're much appreciated, Juanita!
— In
January
we hit the adoption circuit at local pet supply stores with 1 cat & 6 kittens, many thanks to Barb at Feline Network. All four of the tame Stafford kitties have found wonderful new homes.
— In
February
we rescued 4 cats from Fredericksburg, VA. In our first "shelter pull" (thanks to Barb of Feline Network), we were able to get 2 cats off of death row at the Spotsylvania shelter. The other 2 were rescued from the same mobile home park where they also would have been "removed", taken to the shelter & euthanized as ferals. Three of these cats were feral & have been relocated to a barn home but one is tame, but shy. We're going to work with her & see if we can find her a good home.
— I participated in 3 days of feral spay/neuter clinics in February, including the "
Feline Frenzy
", a 2-day spay/neuter effort organized by
Alley Cat Allies
. You may have heard about it in the news; it was held in an elementary school downtown & was protested by some parents. Sadly, the positive aspects were barely acknowledged: 512 cats were spayed & neutered in 2 days through a feat of grassroots coordination, teamwork & dedication. The births of hundreds of homeless kittens were prevented by the efforts of volunteers & donors. The dire facts that necessitate this kind of amazing effort were overlooked by the media as well: 5-6,000 animals are euthanized in the D.C. shelter each year, 70% of them cats.
Feline Frenzy was a fantastic, positive, rewarding experience. I learned a lot & am proud of what was accomplished. Hopefully the media will eventually recognize its value.
Now it's
March
& kitten season is right around the corner. Many requests for assistance with
TNR
are coming in left & right. We're doing our best to help everyone but inexpensive veterinary services are overwhelmed by the demand. There are still a number of improvement projects waiting to built around CR!FR HQ (carpenters wanted!). And LOTS of photos to edit & post are backlogged. I'll try to keep the news updates on schedule!

Thanks everyone for your support & assistance!
Working together we can make a positive difference for homeless & needy cats.

11-8-04 —
Hello! Long time, no type. After a month of being off-line due to the tragic death of my laptop, I've got some catching up to do in the news department. A lot's been going on here at CR!FR!
We've received a number of requests for rescue assistance recently:
- we're currently working on a rescuing a small feral family in Alexandria.
- a
family of 5
came up from Richmond last week that needs socialization, a tame mama & 4 timid kittens. They're coming along, some quicker than others. All adorable, of course. They'll all be looking for loving forever homes shortly.
Last month we had the wonderful experience of rescuing 2 kittens who had homes lined up already! The adorable
Ollie
&
Marrah
were rescued from behind a townhouse complex in Manassas. Friend
Brandy
already had dibs on Marrah & friend
Katrina
fell for Ollie a day later. After a week of socializing & vetting they were on their way to their new homes.
Ollie now lives with 4 other kitties who he gets along great with: Sanford, Leo, Nimbus & Kali. Marrah is the top cat at her new home & is enjoying all the attention. Best wishes, gang!.
We've also had continued mounting vet bills from one situation after an other. It seems to have been the year for dental issues: 3 cats had major dental work, some more than once. New kitties bring new vet expenses. If you can find it in your heart/budget/checkbook to
help
chip away at these expenses we'd so much appreciate it.


9-19-04 —
Protests against the local Petland store are planned for every weekend here in Fairfax City. Petland is a national chain that sells puppies & kittens. Considering the astronomical death rate of homeless pets this is unconscionable. To make things worse, they support puppy mills as their source for puppies to sell. Click on "
Important Links
" for sites with info on the disgrace of puppy mills.
We always welcome more people so please come out & join us in getting this very important message out. Click
http://www.petstorecruelty.org
for the schedule & location & to learn about the issues/controversy regarding Petland.
9-17-04 —
We were alerted that our Cat Sponsorship form wasn't functioning correctly & it has been fixed. Please put it to good use &
sponsor a kitty
or 3!
We received this emergency notice from SNAP - the Spay-Neuter Assistance Program with international reach. They desperately need help. Please consider sending a donation to help the animals on Cayman Island which has been badly damaged by hurricane Ivan.
http://www.snapus.org


9-10-04 — For those who'd like to put a CR!FR banner on their website, we now have some for you to use. Thanks! We appreciate help in getting the word out.


9-8-04 —We now have our PO Box. Help us break it in! Feel free to send letters, donations, supplies, cat food coupons, comments, suggestions, good vibes (oh wait, you don't need an envelope for that ; )
CR!FR - PO Box 2096 - Fairfax, VA 22031-2096


8-12-04 — THANKS! to old pal Myra for the use of her color laser printer: we now have CR!FR business cards, at last! Thanks so much, Myra!


8-4-04 — THANKS! to everyone who's saved cat food coupons for us! Lori P., Somer R., Virginia G., Barbara B., & Bruce B. We really appreciate it!

And THANKS! to Bruce M. for the donation of the wildgrown catnip!


7-24-04 — Heartbreak. Our beloved littlest kitty, Li'l Bette, passed away suddenly overnight. The necropsy indicated she had heart disease, which our vet said is common in cats. She was only 13 mos. old.
Bette was a super-affectionate loving cat who adored your company & attention. She was very, very special, like her namesake, my Aunt Bette. They're both dearly missed. More info & Bette's page.

Our oldest bunny, Milosh, also went to the other side today. He'd been disabled by increasingly advanced arthritis in his hind legs for much of this year. He couldn't walk & could barely stand without falling over. After giving him lots of special care (baths, massages, favorite treats, picnics on the lawn) & TLC for several months, it was time to acknowledge that his quality of life was lacking.
Milosh was a very sweet bunny who endured a lot of discomfort with spirit &
spunk. He is also missed.

Hug your sweeties every day.

On the good side, today is Max's 8th birthday!


7-23-04 — The new cat basking ledge is done!


7-17-04 — Wow! We recieved a fantastic donation of cat items & supplies from our friends Harriet, Drew & Eden. Two lovely cat trees, 4 carriers, litter pans, toys, a heated cat bed, a window perch, food bowls & loads of big towels! The cats are loving their new toys & trees. Click here for pics. Many thankful meows for your support, gang!


7-15-04 — At the mid-June feral spay/neuter clinic, a fellow rescuer asked if I could socialize 3 homeless kittens that she didn't have time to work with. "Of course!", I said. I've been having a wonderful time with these littles ones. At first they were extremely timid & sick with colds. After lots of gentle handling, affectionate cuddles & proper medicine, they've come a long way. It was so rewarding when they purred for the first time.
"Tuffy", the little boy, is a real accomplishment; he was such a tough nut to crack. Now he runs over to me now instead of hiding. He likes to cuddle & press his head under my chin. I guess I'm the closest thing to a mama he's got, although Niko & some of the others are affectionate with the kittens.
The 2 girls, "Sweetie" & "Cutie", are very out-going & sociable; they fit right in. They scamper about the place like they own it & love playing in the hay on the porch.
These playful angels are now about 3.5 mos. old, healthy, spayed/neutered & are current on their shots. They're extremely sweet & playful, good with Max, the dog & box-trained. And ready to go to their new forever homes! If you'd like to share your life with a strikingly good-looking & sweet-natured friend, consider Tuffy, Cutie & Sweetie. Click here for more info.


6-7-04 —The big news at CR!FR is that our site is finally up! After almost 2 years of cat rescue & advocacy we can finally show what we're about on the web.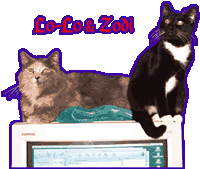 Our website has a variety of features & info. Read about CR!FR's work with feral cats in our Feral Outreach section. In our Classified Ads section (under Miscellenea) anyone can post a free animal-related notice. Read about many other animal issues listed on our Important Links page. And of course, meet our wonderful cats in the Rescued section.
We have so much planned for the future of CR!FR's rescue efforts and for this site. There's a lot in development so be sure to check back often. The site will be updated frequently with news bulletins and plenty of cat-related info for cat people.

4-29-04 — Conversion of the upstairs dedicated catroom is underway! Floor has been scrubbed, linoleum laid & bunk beds assembled. There's more to be done but the cats are already loving the bunk beds. There's always a heap of cats snoozing lazily on the top bunk.

3-25-04 — Our fabulous CR!FR t-shirts are in! Visit our SHOP to check them out. In purple and black. A great way to support our efforts rescuing cats and to show your concern for cats.

3-22-04 —We lost a dear friend today. Our crabby old tabby Willie crossed to the other side. Those who knew Willie knew not to pet him even though he seemed friendly. Those who dared usually got swiped. Willie was a touchy fellow but those who knew him well knew he had a sweet affectionate side. Especially if you had cheese! Cheese was Willie's love in life.
Willie was diagnosed with a large tumor on his larynx that made it hard for him to breathe & eat. Because of his bad heart murmur and age, an operation was unadvised.
Willie moved in with a former housemate in 1991, when he was about 6 mos. old. I later adopted him when she moved out. Willie was generally known as a bully who was mean to other cats & unfriendly to people but he mellowed a lot as he got older. He adjusted well to all the CR!FR cats. He enjoyed sleeping in the sun & playing with string. And climbing into your lap while you were eating & trying to grab a bite. I especially miss him when I get home, he was always waiting to greet me.