News Archives- 2009
News Archives - 2007
News Archives - 2006
News Archives - 2004 & 2005

2007 NEWS
Our Current Adoption Fair Schedule
We'll be at several multi-rescue adoption fairs at libraries around the region in the upcoming weeks. These are terrific venues to hold adoption events! Please come on out to meet a wide variety of lovely cats & find your perfect fluffy companion!
12/15 - Saturday - Herndon Library - 11am - 4pm
1/05/08 - Saturday - McLean Library - 11am - 4pm
1/12 - Saturday - Great Falls Library - 11am - 4pm
1/19 - Saturday - Reston Library - 11am - 4pm
---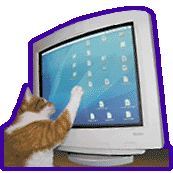 HELLO HELLO!
Happy Autumn!
Lots of news to report & old items to catch up on. The good news first:
Please join CR!FR for a
Cat & Kitten Adoption Event -
Saturday, Nov. 11,
10-4:30pm
at Kings Park Library - 9000 Burke Lake Road Burke, VA. Thanks to
Commonwealth Cat Rescue
who is sponsoring this multi-rescue gathering.
C'mon out & meet our fluffy sweeties!
Our merch booth will also be available for cute & creative cat & dog gifts!
---
CALLING ALL WRAPPERS!
- CR!FR will be participating in
Borders Books' Holiday Gift Wrapping Program
. We will staff a gift wrapping table & wrap customers' purchases for tips.
We'll be at the Borders in Fairfax City, 11054 Lee Hwy., Fairfax, VA 22030 (at the intersection of Rtes 236, 50 & 29), on these dates:
Dec 02, Sun — 4-9pm
Dec 12, Wed — 6-10pm
Dec 20, Thur — 6-10pm
Dec 21, Fri — 2-6pm
Dec 22, Sat — 10am-4pm
If you'd like to wrap prezzies to help raise funds for CR!FR's kitties & rescue efforts, please join us! The schedule's been divided into 2-hour shifts. No supplies required, you need only to bring yourself. Two people are required for most days, 3 people are needed on Dec 22nd (according to the mgr, this is the busiest time of the busiest day of the year!). Click
here
for the shift schedule.
Thank you
in advance for your help - hope to hear from you & looking forward to wrapping with you!
---
Now for the sad news
:
Recently we learned that Mama
Bella
has terminal mammary cancer & sweet
JessieBelle
has terminal renal failure :( :( :(
In addition, several of CATS RULE! Feline Rescue's cats have had expensive major dental work:
Austin
,
Bella
,
Pebble
& Grimmie had many teeth removed. Please help us to provide the best care for our ailing sweeties, & get out from under the dental vet bills (which ran $3k+).
Donating through our
CR!FR
or
Firstgiving
websites is simple, fast & totally secure. It is also the most efficient way to support our fundraising efforts.
All donations are tax-deductible
.
THANK YOU for your help!
---
Oct. 13 - SATURDAY
Please join CATS RULE! Feline Rescue at Fairfax City's
"Fall for Fairfax Fest"
this
Saturday, 10-5pm
! We will be at
Booth #145
, which is on University Dr. between Sager Ave. & Armstrong St.
Admission is free
! There's lots to see & do: creative crafts & artistic wares, food vendors, rides for the kids, music, classic car show, etc. Dogs are invited, too!
CR!FR will have plenty of items for animal lovers on sale for fund-raising (still chipping away at the big vet debt!), including our popular
magnets
(HUGE selection!),
toy & treat gift bags for cats & dogs
, expanded variety of cute & unique
dog & cat toys
,
ornaments
(hand-made in the US) and more!
We'll be sharing the booth with our friends from
PetstoreCruelty.com
, the protest/awareness effort against puppy mills & Petland pet stores. We'll both have plenty of free literature to offer on animal issues.
It's a large & fun event. The weather should be good so come on out & enjoy!
Hope to see you there!
---

......................PLEASE JOIN CATS RULE! Feline Rescue
....AT THE BIG MULTI-RESCUE GROUP ADOPTION EVENT OF THE SEASON!
PRESS RELEASE:
KITTEN & CAT ADOPTION EXTRAVAGANZA!

SATURDAY, OCTOBER 6 AT RESTON REGIONAL LIBRARY 1:00 -5:00 PM
Dozens of kittens and adult cats will be available for adoption on October 6 at Reston's Regional Library, located on Bowman Towne Center Drive in Reston. The event, sponsored by the SPCA of Northern Virginia,
Commonwealth Cats
, Dewey Animals Rescue and HAVEN Rescue, will feature adult cats and kittens from 8 to 16 weeks of age.
"We will have virtually every type of cat and kitten that anyone could want," says, June Faris of HAVEN—"Long haired, semi-long haired and domestic short-hairs in a variety of colors—white, black, orange, and gray solids, silver, gray, brown and orange tabbies, calicos, and gray and black tuxedoes. All of these cats and kittens have been vaccinated against distemper and all have been de-wormed. They are simply wonderful and we know just about everyone will fall in love with them."
"We are looking forward to an enthusiastic turnout" similar to that in the 1990's when HAVEN put on several similar events with the Fairfax County Animal Shelter. "That was fantastic" says Faris. "We had a 95% adoption rate—way above the 20% adoption rate in our Nation's shelters. This was all due to the wonderful response of the residents of Reston, Herndon, Great Falls and surrounding communities."
All of the kittens and cats can be selected on the adoption site and will be delivered to the adoptive families following a home and reference check. "We are asking all adopters who are renting to please bring a copy of their lease agreement with them, showing that they are permitted to adopt cats."
Hope to see you there!
CR!FR has lots of beautiful new kittens & cats just waiting to meet you!
---

UPCOMING EVENTS: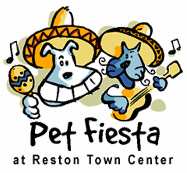 Saturday, 5-05-07
— Please join CATS RULE! Feline Rescue at the
Reston Pet Fiesta!
This is a big fun event; lots of awesome pooches & animal organizations attend. We'll be in
booth #76
, on Market Street, near the corner of Market & Presidents Sts, from 10am - 4pm.
We'll have for sale 25+ awesome animal-themed magnet designs for your car, 'fridge, locker, etc., cute cat dolls, lots of neat new dog toys, and more! Plus plenty of FREE informative animal-issue literature.
See
www.petfiesta.org
for more info.
The weather predictions sound great - in the low 70s. Hope to see you & your canine companion there!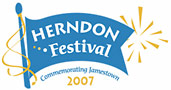 Saturday, 6-02-07
— The
Herndon Festival's
K-9 2K Doggie Expo
- from 10am - 12noon. See
www.herndon-va.gov/festival/k92kdoggie.html
for more info.
Hope you can come out & join us for these fun events!
---
4-29-07
— Thanks to everyone who stopped by our table at the
Earth Day/Arbor Day Festival
at NoVa Community College! We had great weather for the event & a good turnout.
I was gratified that many people picked up plenty of our free literature! I've noticed at events that few people take up the brochures & pamphlets we offer that cover a wide range of issues affecting animals. Perhaps people just don't want to know, or they just don't like to read ;) But knowledge is power, the power to help animals!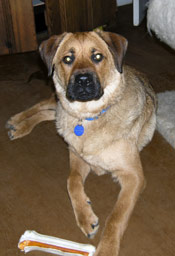 ---
3-13-07
— A new pooch has fallen into our laps — meet
IVAN!
Ivan was living with a family but he was basically being kept in a closed room by himself & his basic needs were being neglected (needs like water, exercise & socialization). The head of the family asked our friend, Hilda, to take Ivan or find him a home & she brought him to us.
Ivan is a handsome chow/shepherd mix with a red face & legs, spotted tongue & curly tail. He needs some training but he's a wonderful dog! He's super-friendly & playful; unfortunately, he "plays" with the cats by chasing them but he's learning to respect them. Several of the cats really like him (Alfie, Gimli, Niko), several really don't (Austin, Pebble, Natey).
He's very different from Maxie but we're getting to know each other & we're glad Ivan's getting the attention he deserves.
---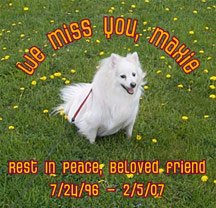 2-05-07
— With a grieving heart I report that our beloved American Eskimo dog
Max
has passed away. He was diagnosed with kidney failure last March & was doing well until just around the holidays. His condition deteriorated quickly & despite several weeks of care at the
Regional Veterinary Referral Center
, we lost our wonderful friend & companion.
We'll be trying to adjust to the immense hole in our hearts & lives with out
Max
, the most amazing & unique dog we've ever known & loved. (see also
Max
)
---
1-12-07
—
HAPPY NEW YEAR!!
CR!FR has a full schedule of events & activities planned out for this year. Our main immediate goal is to get out of "vet debt" so we can get back into a busy rescue schedule & continue to plan for expansion at a new facility.
We're excited about the great ideas we hope to implement for fund-raising so we can get back to being able to rescue & take in cats ASAP. We will continue to help as many people as possible help cats with TNR assistance, advice & guidance, humane trap loans, referrals, etc.
We remain unable, however, to take in any new cats until our budget is back in the black. Nothing is more frustrating than to have to turn away cats in need, I assure you. We are working very hard to pay down this huge debt, which is currently around $7,500. Please consider helping us reach this goal with a
donation
of monetary support or materials (see our
Wish List
). Thank You!
Also, I have taken a PT job in addition to managing CR!FR so you may notice a delay in responses & updates - please bear with me!