Austin is such a delightful part of the CR!FR family, although he didn't start out that way. When he first arrived, it was evident he'd once been someone's pet (although they'd failed to have him neutered). He was so sweet & cuddly & seemed very happy & appreciative of his new home.
Austin had a dark side, though; he was quite ferocious to certain cats & Max, our adopted American Eskimo dog. Austin would literally chase Max very aggressively, slashing & hissing. Poor Max has no qualm with cats & didn't take kindly to this harassment; he'd bark & get very agitated. Austin always kept an angry eye on Max, who gave him extra-wide berth. He was similarly aggressive to other male cats. Many times did Austin have to cool off in a crate after attacking an other cat. It was causing concern just how to deal with this domineering ol' grandad.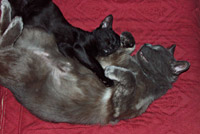 Austin is on the plump side
these days, making a perfect
pillow for Malek.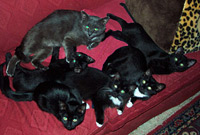 Austin lounging with his fan club.
Fortunately, the problem solved itself over time. After getting neutered & a little plump, Austin became very mellow. He couldn't be bothered to pick fights, he'd rather snooze or play with his pals, Moonpie's kittens. Eventually, Austin's sweet side completely overtook his aggressive side & he became the affectionate grandfather-figure of the Tribe (he's probably related to several from the Turnpike). The kittens got lots of attention & love from ol' Grandad when they were younger. Austin was often surrounded by a nest of kittens, lovingly grooming them or curled up sleeping together.
Nowadays Big Austin is happy just to laze around until mealtime or a play string gets his attention. He has the funniest creaky loud old meow. He loves chin scratches & big hugs & will literally climb up you like a tree to get some. He's a very dear old fellow.

The colony Austin was rescued from.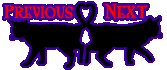 _____