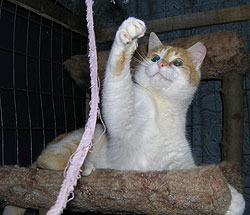 Mango loves to play.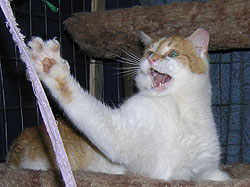 "I'm not nearly as ferocious as I look here! I'm actually well-behaved, mellow, & very sweet."
Meet your new best friend! Mr. Mango is a handsome orange & white sweetie. He was rescued from a condo complex in Ashburn, VA along with a small colony of feral cats. Turns out he's not feral, just a little shy. He's actually extremely sweet once he feels comfortable around you.
Mango is still a bit shy but loves attention when he gets to know you. He greets me with excited meows & leaps onto a cat tree level with the chair I sit in. He walks back & forth purring & writhing around happily. If I stop petting him, he demands more with soft but insistent meows. He will sit in your lap if he knows you well enough, purring & smiling.
Mango is also very playful & loves to pay with dangling strings.
Mango's up-to-date with vaccines, is FIV/F-Leuk negative & has been neutered. He gets along fine with other friendly cats & would do wonderfully with a quiet, friendly household. Got a sweet tooth? Mango is the perfect cat!