Eric is one of the most handsome cats you'll ever see. Creamy pale orange with tan/golden eyes. And those cheekbones, such a gorgeous face. Eric has always been a shy guy but he's come along way since coming to CRFR. He now tolerates close human proximity pretty well without alarm. In fact, he prefers people who have strings to dangle.
There was a time when he would actually let you touch his nose but he evidently decided to keep his distance as a rule. If he decides to try trusting again we'll be ready.
Eric is a sweet mellow fellow who loves to play & lounge around on the porch.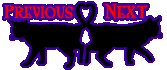 • the colony Eric was rescued from