We got Mr. Shadows as an extra-cold & snowy winter was setting in. He had some dental problems: loose teeth & clumps of fur stuck in his lower front teeth. There were matts in his fluffy fur. He's clean & healthy now & enjoying the easy life at CR!FR.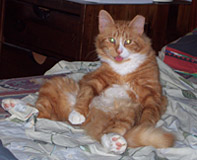 It's unknown why but Shadows' tongue often sticks out, which makes for some cute pictures. He got his name from how he'd stay in the shadows on his holding pen when he was first rescued.
Shadows has been with us a while & has adjusted well but doesn't show much inclination to mingle with humans. That's ok. If/when he's ready, we'll be ready. It would be nice to pet this super-fluffy guy.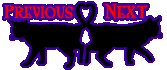 • the colony Shadows
• was rescued from