Maybach is one of the gentlest, sweetest cats I've ever met. When he was first rescued & was in his holding crate, I presumed he was feral. So I gave him plenty of space to adjust to his new situation. He seemed pretty low-key; he mostly stayed in his hiding carrier when I was in the room. On the 3rd day, I heard purring coming from his crate! I was astonished. He was ultra-sweet & friendly from the start. And handsome, too! What a sleek shiny coat.
Maybach is a mellow gentleman of about 2 yrs who loves nothing more than to sit in your lap. Or if you're lying on your side, he'll sit on your side, or on top of however you may be positioned. He just likes to sit close & purr. He likes to play & cuddle up with other cats, too. Maybach doesn't have a naughty or cranky bone in his body. That's the Annandale Love Tribe* for ya!
The other cats know this, too. When Maybach enters a room he's greeted by his fanclubcats with affectionate cuddles. Especially Bandit, she adores Maybach & follows him around.
Maybach is ready for a place of his own, where he wouldn't have to compete with as many other cats for a lap to curl up on. He'd like to share his new home with Firley, an other ultra-sweet member of the Love Tribe & possibly his brother. Together, they're all you could ask for in a friend.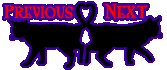 *"The Annandale Love Tribe" refers
to some of the cats from the Annandale
colony who came to CR!FR already friendly,
even though they were born feral.