Siren is a petite brown tabby with reddish specs of tortiseshell mixed in. When we first got her she was about 4-5 mos old & in rough shape: very scrawny with patches of thin fur & 1 eye missing. At first we thought it had been hurt in a brawl although it didn't look painful or freshly injured. She was very wild & timid; hissing, spitting & howling (hence her name) when I'd open her crate.
The vet said Siren was probably born with her eye that way & that it would be ok to release her to the colony even with one eye. I was new at this & was under the impression that after about 2 months of age, a feral cat couldn't be tamed & should be released after spay/neuter/vaccines/medical care. Siren was quite intimidating so I decided to release her after her health improved.
Mike wanted to try taming her & I said go for it but be careful. He managed to wrap her in a heavy towel so she couldn't lash out in any way. He brought her to the sofa & sat with her a while. She was very quiet & cowering but stayed calm. After several sessions of this, I felt comfortable holding her & she actually purred.
We brought her crate upstairs to get acclimated to the other cats & all the comings & goings. Soon Niko was visiting her & they'd play & carry on like a couple of monkeys. It was nice to see this poor scruffy cat having fun.
Nowadays, Siren is a happy affectionate cat, although still a little shy. Her coat is super glossy & silky & she's filled out to a healthy but still petite size. She's very playful & does fine with one eye. She has a scrap of fabric that once contained some catnip that she loves to play with. She stalks around the house with it in her mouth like a leopard dragging away its prey. She likes cuddling in bed & eating small table scraps (she was used to scavenging for people food behind the rest stop). She no longer growls her high-pitched siren wail but still has a high-pitched meow like a squeaky hinge. She's a real sweetie & likes to climb into your lap & purr.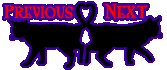 • the colony Siren was rescued from