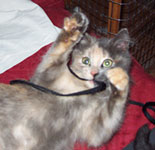 Lo-Lo when she was a wee one. She's still 2,000% playful.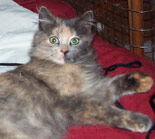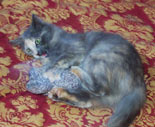 Doing battle with a pair of
socks.
Lo-Lo is a fluffy grey calico & was the easiest feral of all to tame. She was purring at the vet's the very next day. She is just 100% sweet and is always smiling & purring.
Lo-Lo was about 3 months old when we trapped her. Fortunately, she's healthy & very well-adjusted. She's as playful & as affectionate as can be. She's the most hyper of all the CR!FR cats, the undisputed silliest. Constantly meowrling for attention. She loves tearing around attacking folds in fabric, & plundering pillows on the sofa. But mostly, relentlessly pestering you to play when you're trying to work on the computer.
Lo-Lo has several unique expressions: an inquisitive high-pitched mew for a greeting, a hilarious prolonged warbling squeal for an invitation to play, and a manic lower-pitched gurgling squeal that insists you pick up the string & play. Sometimes, all 3 are strung together in a sustained phrase of manic enthusiasm.
Lo-Lo lives to chase strings & has devised a number of tactics to get you to pick one up & play with her. She reaches up & persistently paws at you, meowing & squealing. She scampers in front of you when you're walking & slaloms a crazy course almost tripping you. She hovers around a string meowling, sometimes picking it up & hopping around. She's so much fun but she doesn't ever want to stop. I can partially blame
Lo-Lo for the delay on launching this site!