Mr. O'Malley is such a fantanstic cat; a striking brown, carmel & white tabby with more luv than than he knows what to do with. And a purr that will register on a seismograph.
O'Malley came to us from the Annandale Love Tribe* & although he was a bit shy at first, it was clear he was ready for friendship & attention. He gradually got over his shyness & is now a big teddy bear sweetie pie, the cuddliest cat at CR!FR.
Mr. O'Malley loves to play & cuddle & lounge on the porch, but mostly cuddle. His purr should be registered as the 8th wonder of the world. It's a deep, slow, loud rumble in 1:4 time (if other cats purr in, say, 4:4 time). When he gets going, he squints with a "come hither" look, his big white paws start kneading & he puts the cuddling in overdrive. Such a fantastic cat.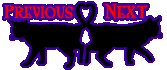 *"The Annandale Love Tribe" refers to some of the cats from the Annandale colony who came to CR!FR already friendly, even though they were born feral.