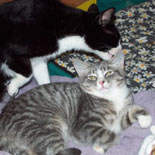 Getting some TLC from
" Uncle" Niko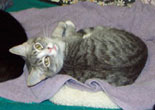 Guinness, like his brother Finnegan, is about the sweetest & mellowest guy you'll come across. He got his name because compared to his siblings his build was a little stout.
Guinnie loves to play & lounge around & cuddle. To get your attention, he jumps up to the top level of a cat tree & rolls around upside-down looking cute.
Guinness & Finnegan are a gorgeous silver grey pair of sweeties who'd like to get their own place together. They're double-irrisistable!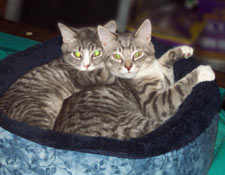 Guinn & Finn