We got Saba on our first trip to the Turnpike to rescue cats. He was thin, small & angry. He'd hunker down in his holding crate & glower & hiss. We reluctantly returned him to the reststop after a vet check up & being neutered along with 2 other adult males. That winter was very cold & snowy & we worried about them. We rarely saw them on our trips to the reststop.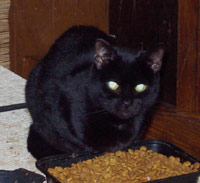 Fortunately, Mary was able to re-rescue Saba when she volunteered at the reststop. We were relieved to have him back but sadly, the other 2 have disappeared. We can only hope they're ok.
Now that Saba is healthy & fully integrated into life at CRFR, he's showing signs of coming around. He's partially over of his fear of humans & no longer runs when you enter the room. He'll even lean over & sniff your hand on occasion. He's got a ways to go but it's a good bet that Saba may be a Fabulous Feral Success Story someday.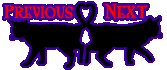 • the colony Saba was rescued from