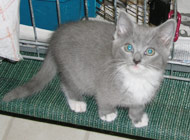 Havanna - too cute!

Hula in a rare still moment.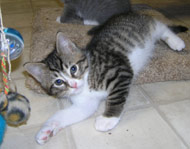 Playful Hurricane.
These adorable kittens were brought to the May ACA feral spay/neuter clinic but at 6 weeks old, were too young to spay or neuter. They needed some nurturing & a little time to grow, so they came home with CR!FR. The 3 kittens are all super-sweet, playful & lots of fun. They were born est. April 8 & are all outwardly healthy.
Havanna is a cute-as-a-button little pip squeak, in fact we call her Pippy for short. She's a soft grey with a cute soy milk mustache! She's the smallest of the 3 & therefore isn't as rowdy, as her bigger siblings easily out-power her. She does love to play with toys & curl up on your lap to bat at dangling strings or watch the other 2 maniacs tearing around. She's very affectionate & sweet. And did I mention cute?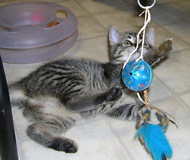 Hula in her usual state of constant motion.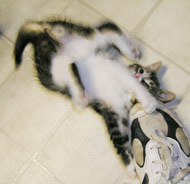 Hurricane & his favorite toy, my shoe.
Hula is a brown tabby with enough energy to power a city. She's always a blur of motion, chasing, rassling, climbing, tumbling. She's also as affectionate as she is energetic. Her purr can be heard across the room & she loves attention & cuddles. Hula's personality is very sweet, friendly & out-going. She runs over to greet me when I enter the kitten room, with her tail up & an eager affectionate expression, purring a mighty purr. She loves to climb my leg like a monkey scaling a palm tree.
Hurricane is the male of the litter; he's the biggest, strongest & also the shyest. It took a long time to get him comfortable around people, he was very resistant at first. He was even frightened of toys.
You wouldn't know that now, he's Mr. Fun & Rowdy. He's also much friendlier
& more comfortable being handled. Hurri's favorite toy is my shoe, which he loves to tackle when I sit down. He loves to climb, chase & rassle with Hula.
Please e'mail to find out more about these precious babies, we don't have any adoption fairs set up at the moment.